Do You Have Sensitive Teeth?
Whether you experience tooth sensitivity as a result of your whitening procedure, or are sensitive to hot or cold temperatures, you don't have to suffer through it. You have options to treat your sensitivity immediately when it occurs or as part of your daily routine.
Find the Tooth Sensitivity Treatment That's Right for You
Although there are various causes, most tooth sensitivity can be easily treated. It is important for your dentist to determine if your sensitivity is related to a more serious issue. But depending on the cause, severity, and frequency of your sensitivity, here are two tooth sensitivity treatment options that your doctor may recommend.
Quick and Effective Tooth Sensitivity Relief
UltraEZ™ desensitizing gel is a quick and effective way to eliminate your tooth sensitivity. This award-winning product provides rapid relief from sensitivity caused by teeth whiteners, hot and cold temperatures, root exposure, and toothbrush abrasion. Plus, it is available in our prefilled UltraFit™ trays that instantly adapt to fit any smile!
A Whitening Toothpaste for Sensitive Teeth
In addition to strengthening enamel and keeping your teeth bright, Opalescence™ Whitening Toothpaste Sensitivity Relief is specially formulated with potassium nitrate to help relieve tooth sensitivity. And, unlike some whitening toothpastes, it is safe to use every day. By switching to Opalescence Whitening Toothpaste Sensitivity Relief you'll be able to keep your smile bright and reduce your tooth sensitivity by simply brushing your teeth.
Ask Your Dentist to Find Out Which Option is Right for You
UltraEZ™
Desensitizing Gel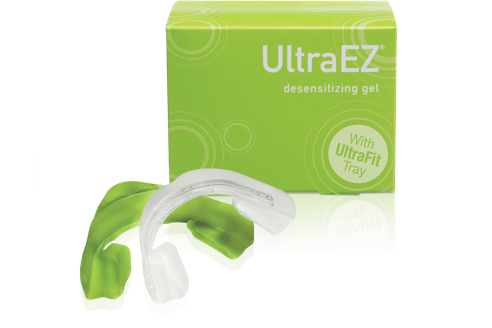 Quickly eliminates sensitivity from tooth whitening, toothbrush abrasion, root exposure, and thermal and chemical changes
Features potassium nitrate and fluoride, which have been shown to decrease sensitivity1
Available in disposable, prefilled trays as well as in syringes for use with custom trays
Prefilled UltraFit™ tray adapts to any smile for a comfortable fit
Can be used before and after whitening treatments
Find UltraEZ Gel Near You
Opalescence Whitening Toothpaste
Sensitivity Relief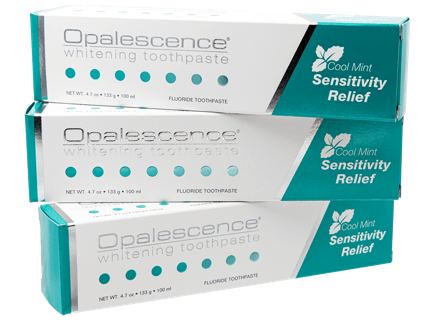 Cool Mint Flavor
3pk
4.7oz tubes
Includes three 4.7 oz tubes of Sensitivity Relief formula
Contains maximum strength potassium nitrate to help relieve tooth sensitivity1
Removes surface stains to lighten teeth up to 2 shades in just one month2
Contains sodium fluoride to help prevent cavities and strengthen enamel3
Exceptional fluoride uptake4
Safe for everyday use
Cool Mint flavor for fresh breath that lasts
Browning WD, Myers M, Downey M, Pohjola RM, Brackett WW. Report on low sensitivity whiteners. J Dent Res. 85(Spec Iss A):1650, 2006 (www.dentalresearch.org).
Gultz J, Kaim J, Scherer W. Whitening efficacy of a whitening toothpaste crème [IADR abstract 2747]. J Dent Res. 1998;77(suppl 2):975.
Sivapriya E, Sridevi K, Periasamy R, Lakshminarayanan L, Pradeepkumar AR. Remineralization ability of sodium fluoride on the microhardness of enamel, dentin, and dentinoenamel junction: An in vitro study. J Conserv Dent. 2017;20(2):100–104.
Schemehorn BR, et al. Enamel fluoride uptake study. Indianapolis: Dental Product Testing Therametric Technologies, Indiana University Emerging Technologies Center. 2009.
Consult with a dental professional for more information.
Find A Dentist
Search for dentists who offer UltraEZ gel and Opalescence whitening and find the best option for you today!
Find A Dentist Near You